Computer Tracking Software
As a parent, you have a responsibility to ensure that your chid has a safe environment in all aspects of their life. Too many times, we think it'll be ok because they are only going to the little kiddie sites. Where do you think the pedophiles go to talk to these children?
You have a right to know and a duty to protect your child.
Or maybe they heard about this cool new YouTube video that they have to see. Do you know what can be found on YouTube? Even if there is a pop up that says you must be 13 or 18 to view a particular site, do you think your child is just going to click no, and go away from it? Not if they think it's the site they are looking for. Or if they even read the warning.
Computer Monitoring Software can be used to help you keep track of what your kids are doing online. You can "spy" on them without them even knowing or you can let them know up front that they are being monitored.
Computer Monitoring Software
Everything that is done on the computer is secretly recorded so you can playback and see exactly what your child was doing.
While on-line computer exploration opens a world of possibilities for children, expanding their horizons and exposing them to different cultures and ways of life, they can be exposed to dangers as they hit the road exploring the information highway.
Teenagers are especially vulnerable to the onslaught of what you don't want them to see. And they know they are not supposed to go to those sites. With this software, you can specify and completely block whole websites that you don't want you kid going to.
Spending too much time on Facebook? Give them a time-out by blocking it for a spell. We all know that kids will find a way to get around your rules. With this secret software program, you will be able to check up on what they were doing and where they have been. You will even be able to see exactly what they typed on the keyboard. Hidden chats are no longer hidden!
Keyboard Logger
Advances in computer and communication technology allow your children to connect with complete strangers in a countless number of ways.
The IntelliSpy COMPUTER ACTIVITY TRACKING SOFTWARE gives you the ability to track what your child does everytime they get on the computer. Not only do you get the software which is easily installed on your computer, but you also get some very valuable information pertaining to internet dangers for children.
Expertly written and researched, these reports give you the knowledge you need to fight back against online predators and how to handle the new social media aspects of it all. This information is golden to any parent wo cares about thier children's online activity.



Features:


 Key Logging: see everything typed onto the keyboard...this includes emails, instant messages, social networking activity


 Screenshots: see snapshots of the screen taken at 1 minute intervals


 Block web sites: limit access to web sites that you feel are inappropriate for your child


 Completely Stealth: and if someone unknowingly closes the program or shuts down the computer, the program will restart.


Checking on your spouse is another way to use this product. If you suspect an online affair, by using this software, you will know for sure.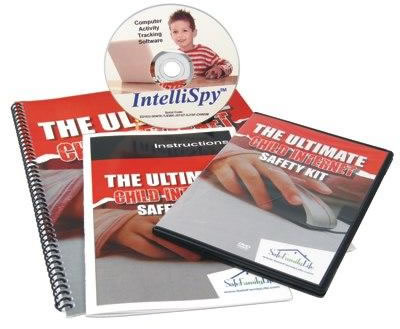 Includes: Digital and Printed Instructional Manual and these 7 Safety Reports:
What is the Internet and How Powerful is it?

Top Five Dangers to Kids with Unsupervised Internet Access

What Your Family Needs to Know About Cyber Predators

Social Networking...What Life is Your Family Living Online?

Modern Day Pirates: Does Your Computer Contain Stolen Property?

How to Track Who Uses Your Computer and What They Do

Internet Safety: How to Protect You and Your Family